Let me show you some tips to use the iMessage Sticker Pack 'The Life of Taggie and Teddy' on a creative way.
The sticker pack 'The Life of Taggie and Teddy' consists of characters, objects, messages and speech bubbles.
You can use these elements alone to express yourself in an emotional way. The stickers add feelings to your conversations. You don't need to write a message if you are waiting for a call. Send a 'Taggie is waiting for a call' sticker instead. Your friend will be know what to do.
Be creative! These stickers are designed especially to take advantage of the Drag function.
Use "sticker on sticker" combinations to express your everyday thoughts on unique way. E.g. you want to wish happy birthday to your friend:
Tap the 'Taggie is carrying a box' sticker, then tap the SEND button.
Tap the 'Birthday cake' and hold your finger on the cake. Drag the cake to stick on Taggie's box. (You can scale and rotate the sticker by pinching with two fingers before release.)
Tap the 'Happy birthday' message sticker, and send it.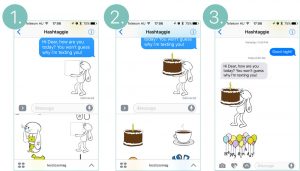 Another way to use the Drag function is when you drag the stickers on a speech bubble. Here is an example:
Write a text message, and send it.
Tap a character and hold your finger on it. Drag the figure on the bubble.
You can drag the same way another stickers (e.g. thought cloud, or message sticker) on the bubble close to the character.

Use the Drag function on the same way on photos.